Short on Stature, Big on Talent!
The Right Place held their second Annual Art Showcase on Thursday, June 8th and it was a huge success! Not only was it an opportunity for the students to show their parents what they've been working on throughout the school year, it was a great chance to share the program with the community.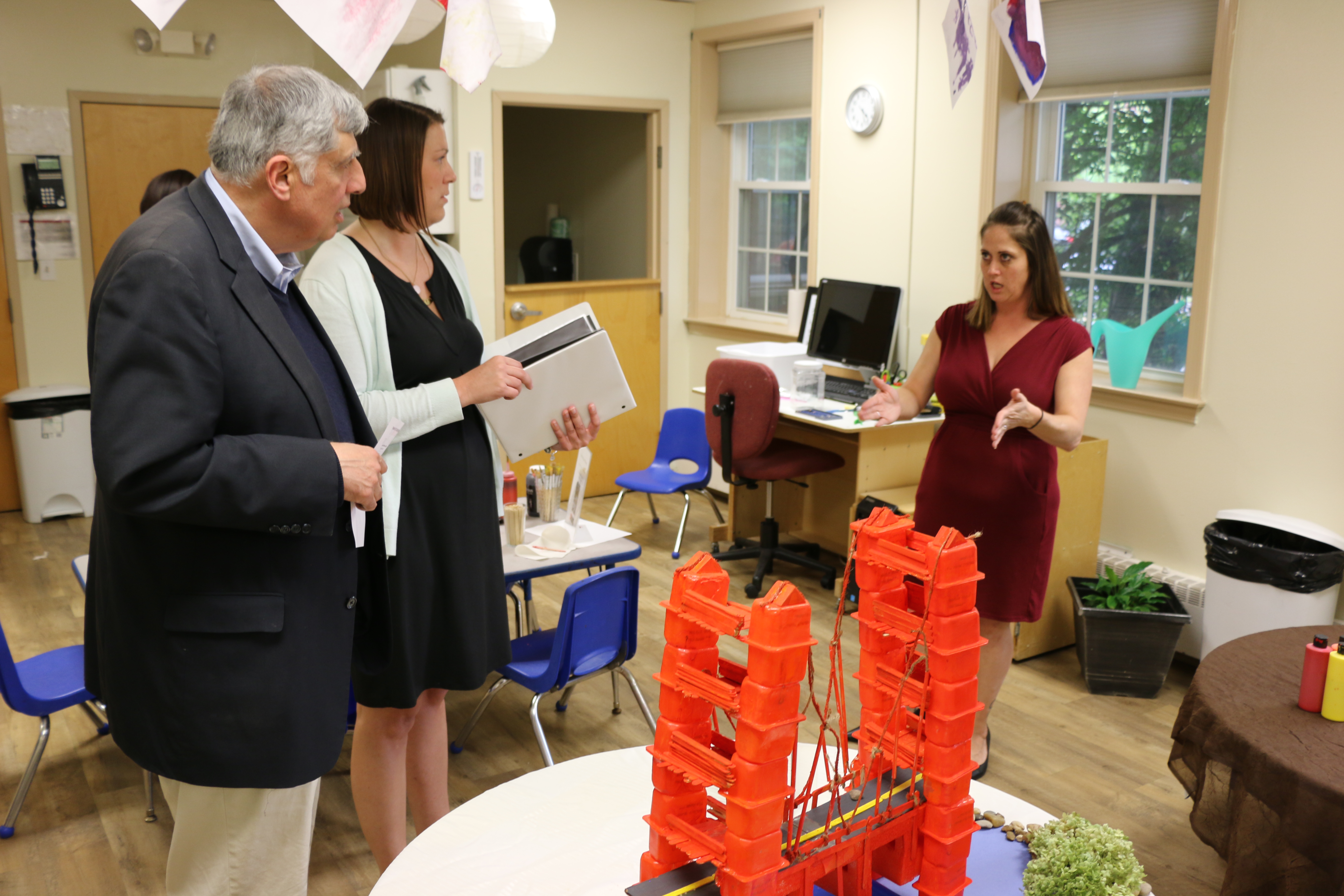 Greater Hartford Advisory Board member Al Nweeia taken for a tour of the art exhibits
The evening consisted of sponsored art exhibits such as "Representing Our World" and "Impressions" which were displayed throughout the building. Also featured was a "Self Portrait" exhibit, where it was fascinating to see how children viewed themselves. There were also hands on art experiences that filled each classroom, such as: working with clay, printmaking, still-life drawings; and loose parts.
A new addition this year was face painting for the children, which was a huge hit! Walking through the halls, you were bound to stumble upon a pirate... or TWO!
The Art Showcase supports the Art Program at The Right Place. The Art Program is centered around the Atelier, or Studio, a forum for art instruction and exploration. Under the guidance of the Atelierista, children develop their artistic vocabulary in media including pencil, pen, tempera, watercolor, oil and chalk pastels, clay, and wire. Children in the Studio use real art materials and learn authentic art making techniques. The Atelierista collaborates with each teacher to extend Studio experiences into the classroom.
The Art Showcase also featured food samplings that were sponsored by FreshPoint CT. The savory and sweet food offerings included items from the program's Farm-To-School model. Chocolate covered strawberries from Pell Farm in Somers, CT were served, along with parmesan cheese spinach bites. A ricotta herb dip with cheese from Sam Maulucci & Sons in Hartford were just some of the delicious selections served.
Jenaliz painting with his mother Margoliz Madera
Parents have noticed a big difference in their children since attending The Right Place and experiencing the programs they have to offer. "The Right Place has prepared her in all different ways. She used to be quiet and closed up, now she's opened up so much. She knows how to write her name now!" said, Margoliz Madera, Jenaliz's mother.
Ayden and Jayden love ARRRRT!
When asked how The Right Place prepares her children for the next steps in a child's life, Lourdes Diaz, Ayden and Jayden's mother said, "I think they'll be very prepared. They might even be a little ahead of some of the other kids starting Pre-K as their first school experience as opposed to them being here at The Right Place."
The Right Place offers Nationally Accredited Early Childhood Education to children ages three to five, and helps children acquire the skills they need to be successful learners when they enter kindergarten.
Jenaliz, whose favorite part of The Right Place is painting!
The Right Place centers are operated by The Salvation Army, and are accredited by the National Association for the Education of Young Children (NAEYC), which ensures the highest quality education for children. Creative experiences, which allow children the opportunity to develop and express their ideas and feelings include art and media, dramatic play, music, language, and movement.